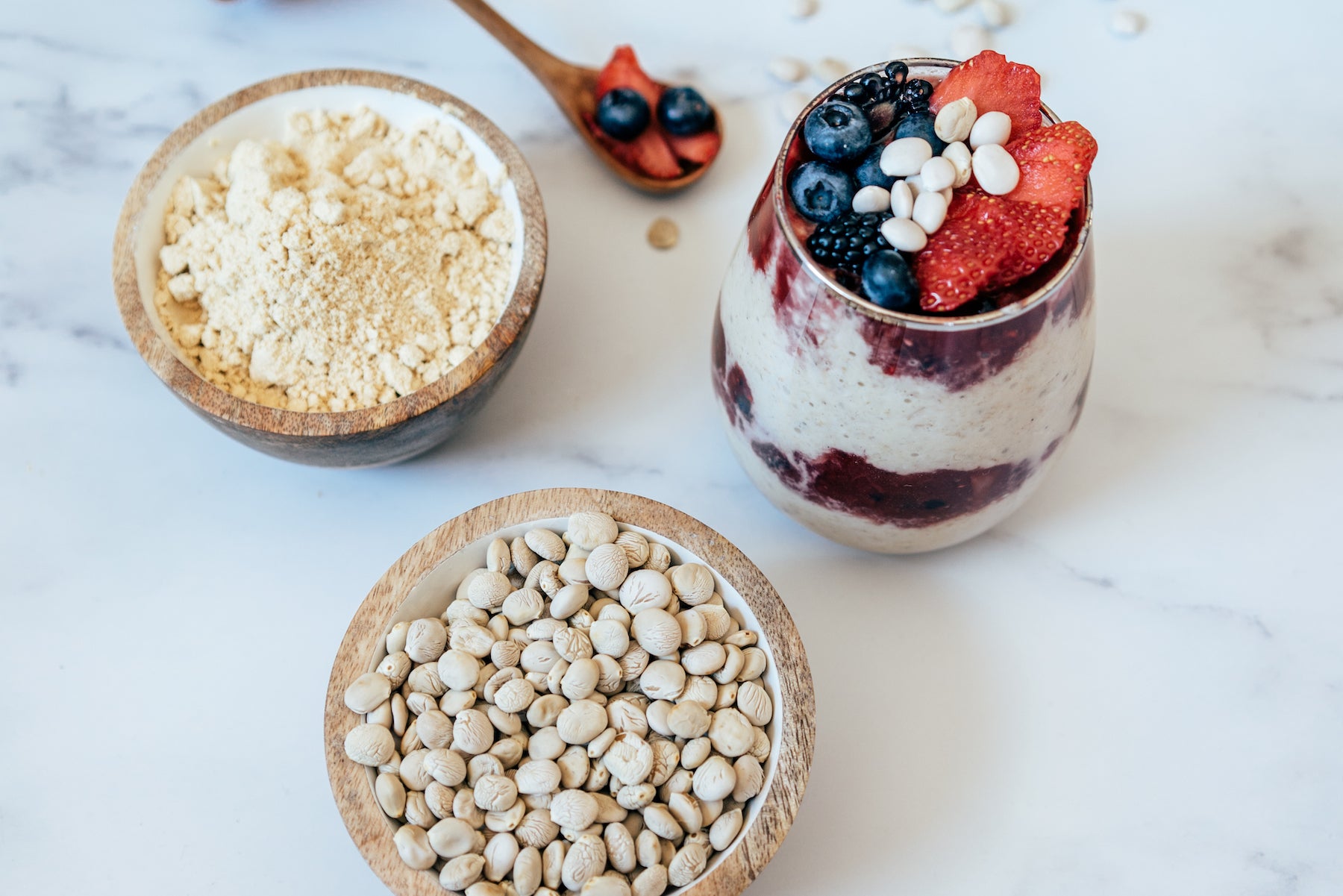 Overnight Oats with Berry Chocho Orange Compote
Creamy, subtly sweet, zesty and fruity, these overnight oats will shock your taste buds. Filled with hearty fiber rich ingredients such as chocho and oats, omega-3s from the chia seeds, antioxidants from the blueberries, and micronutrients galore, these overnight oats come together in minutes and make the perfect canvas for your morning meal. Whether you make this as a meal prep for a week of breakfasts on the go or the night before a big family breakfast, it is sure to please. Requiring minimal ingredients and perfect to play around with, these oats might sound simple but offer a truly complex bite. 
INGREDIENTS (Makes 4 servings) 
Overnight Oats
2 cups Rolled Oats
1/2 cup
Mikuna Chocho Superfood Protein Original
¼ cup Chia seeds
3 1/4 cups Cashew Milk (2 cups or 9oz of Cashews + 6 cups Water)
1tbsp vanilla extract
1.5 tbsp Maple Syrup
BLUEBERRY ORANGE COMPOTE
2 cups frozen blueberries (option other seasonal berries)

1 ea. Orange (Zest and Juice)

3 tbsp Maple Syrup

¼ cup Water

1 Tbsp Chia Seeds

2 tbsp Mikuna Chocho Superfood Protein Original 
PREPARATION METHOD
1. First prepare the overnight oats. Combine oats with chia seeds and Mikuna Chocho Superfood Protein and stir until combined. Slowly add the cashew milk or plant based milk of choice. Mix to combine.
2. Add in the vanilla and maple syrup and stir again. Set in the fridge to thicken overnight. Next, prepare the compote.
3. Add all ingredients to a saucepan and simmer until combined, thick, and sweet. Take off heat and set aside to cool to room temperature. Once cooled, set in the fridge overnight.  
4. Next morning, take out oats and compote and bowls or jars. Layer overnight oats and compote to desired amounts. Top with a sprinkle of sea salt, nut butter, seeds, or dried fruit of choice. Place leftovers back in the fridge, best eaten within three days of making.
Have comments or questions? Please leave a comment or reach out to us to @mikunafoods or info@mikunafoods.com - ENJOY!
Back to Journal
---