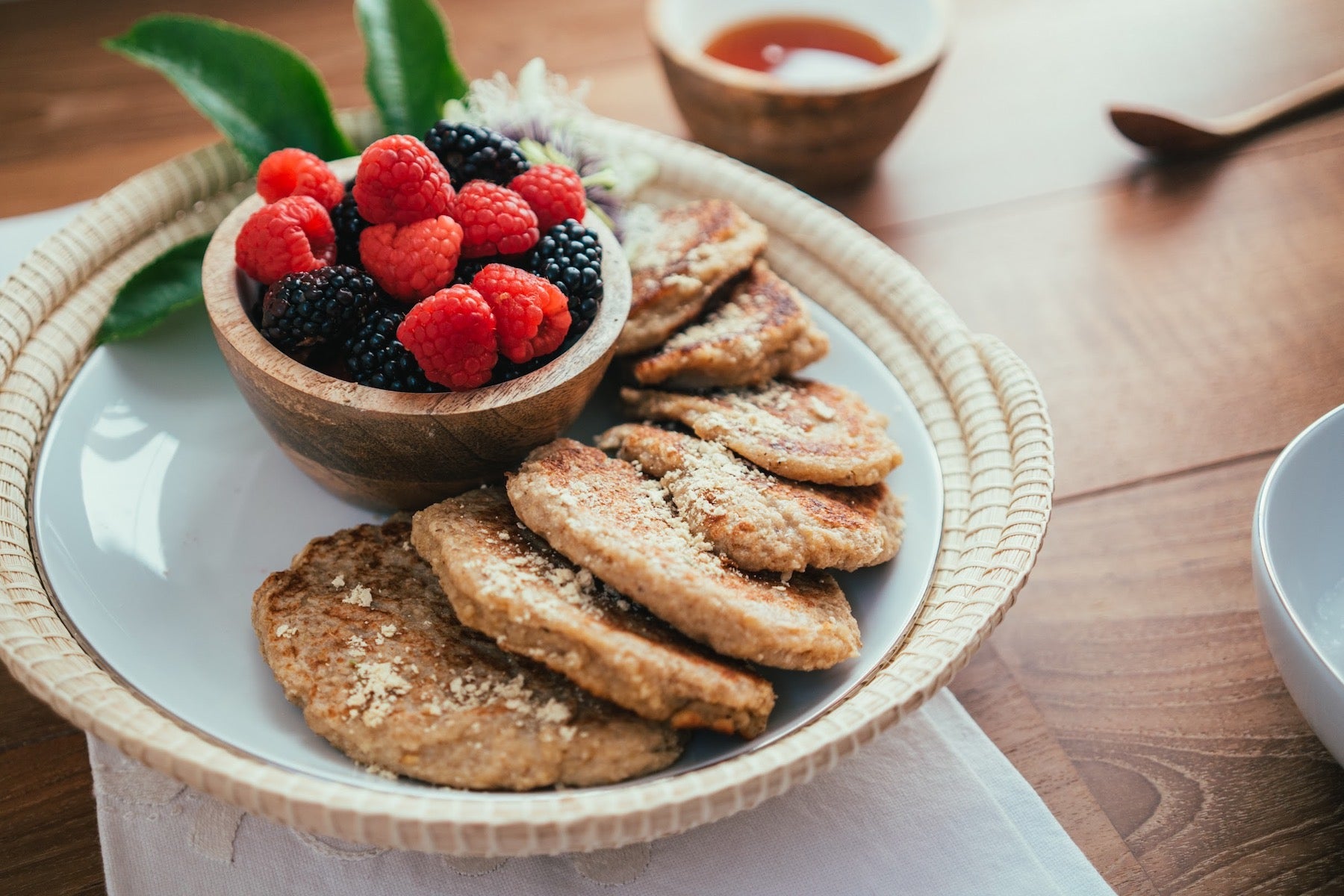 These Chocho Oat Cakes are our spin on a breakfast classic, pancakes. They make all of our brunch dreams come true as they provide both a thick and fluffy stack and a flavorful, nutrient dense bite. The oat flour and Mikuna Chocho Superfood Protein base pack these little cakes full of protein, fiber, and micronutrients, and provide our digestive systems with prebiotics and our skin with vitamin E. Requiring just a blender, a bowl, and less than 10 ingredients, these Chocho Oat Cakes come together in under 30 minutes. We recommend serving them fresh off the griddle with a dollop of coconut yogurt, a handful of fresh berries, and a splash of organic maple syrup. You can also make a batch (or two) and freeze the leftovers. Just toast a few up for a deliciously decadent breakfast on more rushed mornings.   
INGREDIENTS
2 Cups of Oats
3 Tbsp Psyllium Husk
3 Tbsp Mikuna Chocho Superfood Protein Original 
1 Tbsp Baking Powder
1 Tbsp Cinnamon
Pinch of Sea Salt
1/2 c Maple Syrup
2 Tbsp Coconut Oil (melted)

1.5 c Water or Plant Milk of Choice

Optional add ins: fruit of choice, cacao nibs/chocolate  chips, nuts 
DIRECTIONS: Blend oats to a flour consistency. Add in psyllium husk, Mikuna Chocho Superfood Protein Original, baking powder, cinnamon, and sea salt and blend until all dry ingredients are mixed. Pour dry ingredients into a large bowl. In the blender, combine the maple syrup, the melted coconut oil, and the plant milk. Blend the wet ingredients together until combined. Pour the wet ingredients into the dry and mix thoroughly. Add in optional berries, nuts, or cacao nibs and mix through. Heat a nonstick pan over medium heat and grease well with coconut oil. Once the oil bubbles and is hot, add a dollop of batter to desired pancake size and wait until top bubbles to flip. Cook until each side is golden brown. Enjoy!
Back to Journal
---