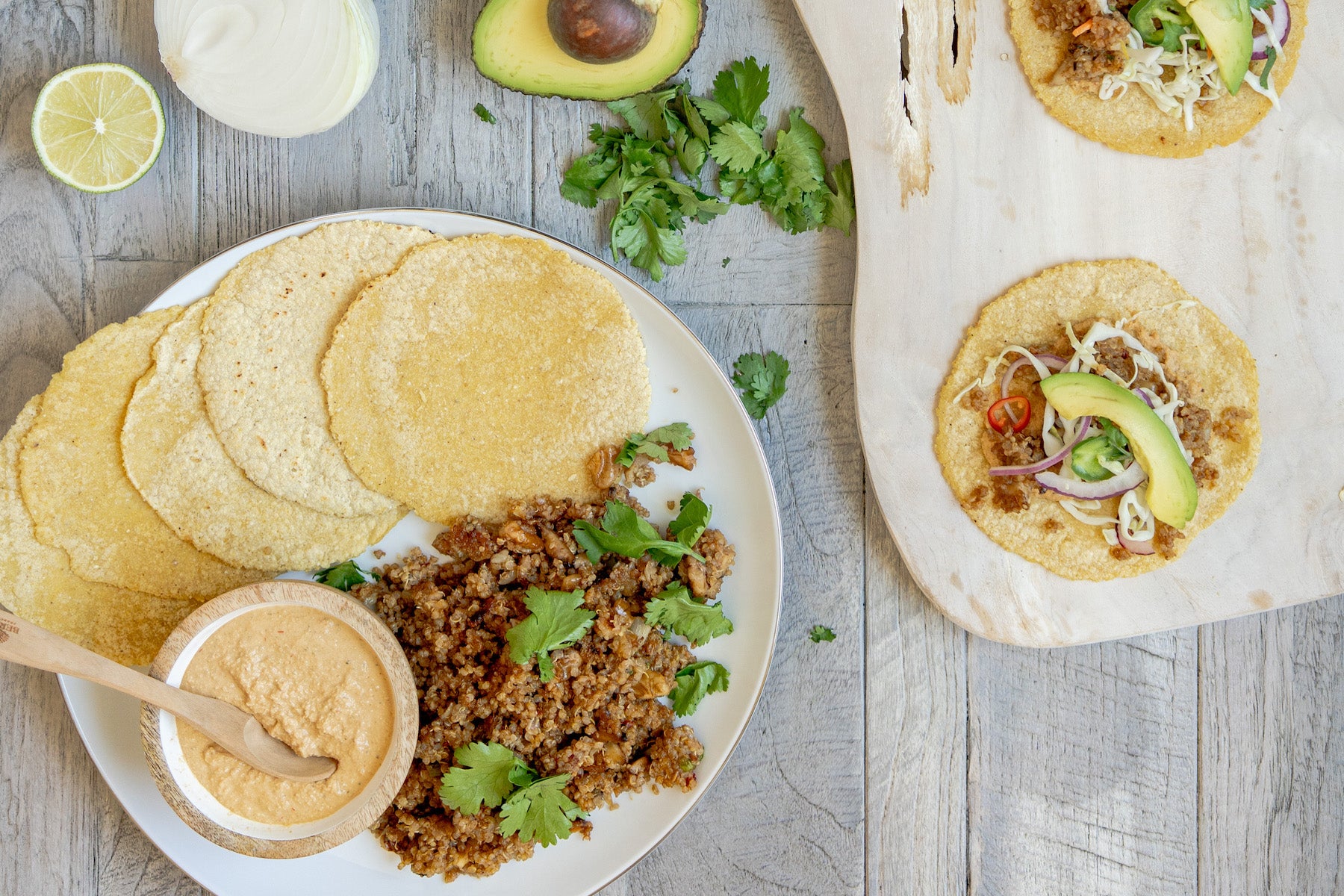 Tacos de Chocho | #TacoTuesday
Plant based yet protein packed taco filling can be hard to come by, which is why we have created this walnut shiitake crunch "taco meat." Filled with umami rich mushrooms, flavorful spices and protein rich quinoa, Mikuna Chocho Superfood Protein Original, and walnuts, this taco meat is sure to become a new staple. Amazing served as is over rice and beans with a side salad, served inside chocho tortillas (recipe below), or served with tortilla chips as a dip, this taco meat will upgrade any meal. For a little bit more effort, turn this taco meat into enchiladas: stuff inside chocho tortillas and cover with enchilada sauce and plant based cheese and bake. Coming together in less than thirty minutes from start to finish, this walnut shiitake crunch is a must. 
INGREDIENTS
Walnut Shiitake Crunch 
1 Cup Shiitake Mushrooms (Small Dice)

1 Cup Yellow Onion (Small Dice)

1/4 Cup Olive Oil

1 Tbsp Cumin

1 Tbsp Sage

1 Tbsp Dried Oregano

1 Tbsp Chopped Garlic

2 Ea Chipotle Chilies in adobo Chopped

1 Tbsp Maple Syrup

1 Tbsp Apple Cider Vinegar

3 Cups Cooked Quinoa

1 Cup Rough Chopped Walnuts

1/2 Mikuna Chocho Superfood Protein Original 

1/2 Cup Oat Flour

2 T Salt
METHODOLOGY
Dice mushrooms and onions. Heat a large pan over medium heat and add in walnuts. Stir walnuts around until fragrant (a few minutes maximum). Remove walnuts from the pan and set aside. Add oil to the pan and add in diced mushrooms and onions and spices. Cook down on low heat and then add in the remaining ingredients and stir to incorporate. Cook to desired consistency and adjust seasoning as desired.
CHOCHO TORTILLAS
These chocho tortillas will make you wonder why you ever bought tortillas from a store. Filled with more protein than most store bought varieties and incredibly simple, these tortillas are hearty and make a great canvas for any taco filling. We recommend stuffing them full with walnut taco crunch meat and topping it all off with a healthy dollop of guac. Best enjoyed fresh, these tortillas will last in the fridge for a few days and freezer for a few months. 
INGREDIENTS
1.5 cups Masa Harina (Corn Flour)

1/2 cups 

Mikuna Chocho Superfood Protein Original 

1.5-2 cups Hot Water

1/2 teaspoon Salt
METHODOLOGY
Mix ingredients together in a large bowl. Cover with plastic or damp cloth and rest for 20 Minutes.
Measure Approximately 1 oz Press Tortillas and Griddle on each side...best served warm!!
Back to Journal
---