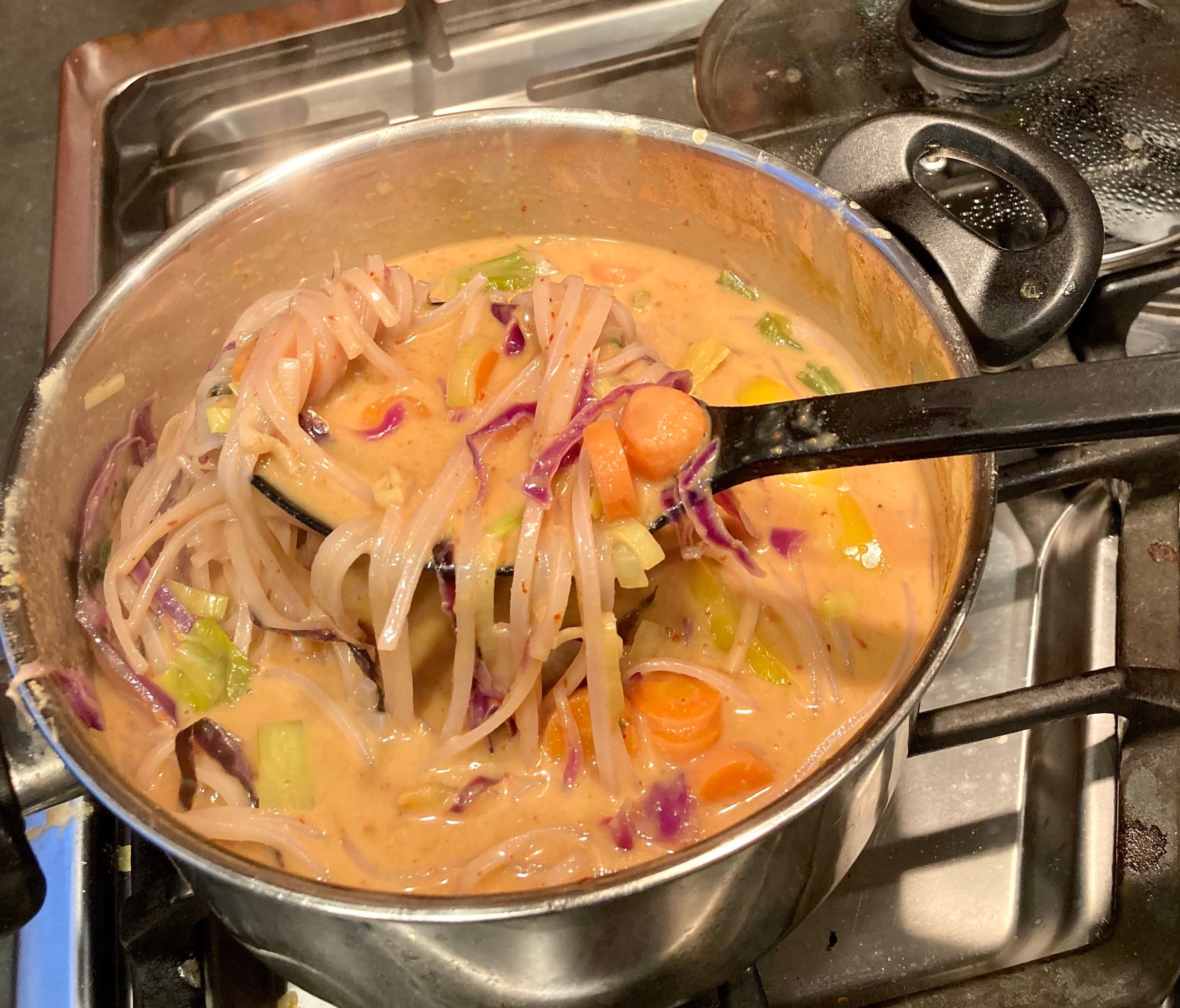 No matter where you are, sometimes there's nothing more comforting than a hot soup — and we mean HOT. This delicious recipe is packed with flavor — and in this case, vitamins, minerals, fiber, and protein. You can adjust the heat level based on your preferences, but take note: this soup is spicy! It's also easy to make, and even easier to enjoy.
Ingredients:
½ cup of Mikuna Pure Chocho
1 can of Maesri red curry paste
4 cans of coconut or light coconut milk
¼ cup of coconut sugar
3 Tablespoons of fish sauce
2 small stalks of lemongrass, peeled and flattened
⅓ cup of fresh basil
⅔ cup of carrots, chopped small
½ cup of red cabbage, sliced thin
1 bell pepper, sliced thin
2 stalks of baby bok choy, stalks only, cut into thirds
1 leek, sliced thin
7 oz. of rice noodles
Lime for garnish
Cilantro for garnish
Instructions:
Slowly pour coconut milk and 1/3 can of curry paste into a pot and heat until just shy of simmering.
Peel and smash lemongrass so that it's flat, but still in one piece, and add it to the pot along with coconut sugar, fish sauce and leek.
Slowly add more curry paste until you're happy with the spice level, then add Chocho, stir well and bring to low boil. (To make your soup less spicy, add more coconut milk or use less curry paste.)
Stir in vegetables and basil, and simmer for 5 minutes before removing the lemongrass and adding rice noodles.
Simmer for 7 more minutes, stirring occasionally. Remove from heat and let stand for 5 minutes. Serve with lime and cilantro. This recipe makes 3-4 servings. Enjoy!
Back to Journal
---